The Ultimate Bridal Accessory
Say Eye Do To Eyelast Extensions
Long, Luxurious Lashes Are the Ultimate Bridal Accessory.
Finally, you can dramatically enhance the appearance of your eyes without mascara!
Weddings are a perfect time for eyelash extensions. Brides, bridal parties, mother of the bride and mother of the groom love to wear eyelash extensions. It is a perfect occasion to have a perfect set of eyelashes.
Brides are always seeking a way to look the most beautiful on their special day. Eyelash Extensions are that way to enhance the natural beauty of a woman.
Brides getting eyelash extensions look fabulous from the rehearsal dinner through their honeymoon. It's a wonderful way to wake up next to your groom with a beautiful face and gorgeous thick, lush, long eyelashes . Whether you are by the beach, a pool at your beautiful honeymoon destination your beauty routine would be at a minimum. Lash extensions truly transform your face and give you that bright-eyed, fresh look, even when you are not wearing any mascara.
Make sure to add eyelash extensions to your Wedding Day Beauty Must Have.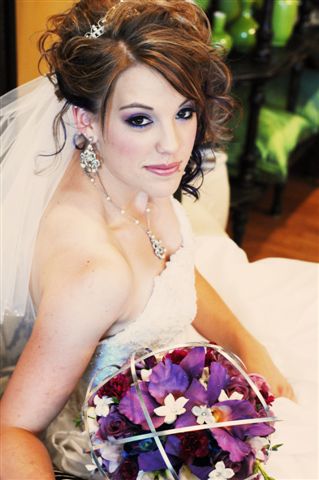 Leave your mascara at home and let the tears of joy fall without marring your perfection. Long, luxurious lashes are the ultimate bridal accessory. Celebrate your special occasion with Xtreme Lashes® Eyelash Extensions for you and your bridal party and enjoy beautiful lashes from the bridal shower through the honeymoon. Enjoy the benefits of Xtreme Lashes® with little or no need to adjust your lifestyle. You can swim, shower, exercise and sleep worry-free. These lashes are not your traditional fake eyelash strip. They are semi-permanent individual eyelash extensions applied directly to individual eyelashes for a NATURAL look and feel.*Personalized makeup at your doorstep the day of you wedding to give you the "Bridal Glow" every bride desires. As a makeup stylist with Jane Iredale Mineral Makeup, you can have makeup done that not only looks good but is good for your skin. That is why it is called the "skin care makeup." Makeup matches can be done to match your skin color specifically, so you won't see that line of demarcation in your wedding photos. For more information on this fabulous makeup visit their website at www.janeiredale.com or to schedule a makeup session call Paula Hill at 505-264-3294.
Perfect for special occasions or simply for day-to-day wear, our semi-permanent eyelash extensions feature the following:
Last indefinitely with touch ups
Weightless, with a natural look and feel
Painless, relaxing procedure
Water resistant so you can swim and shower worry free
Lengthens and thickens without the need for mascara
Need to make an Appointment?